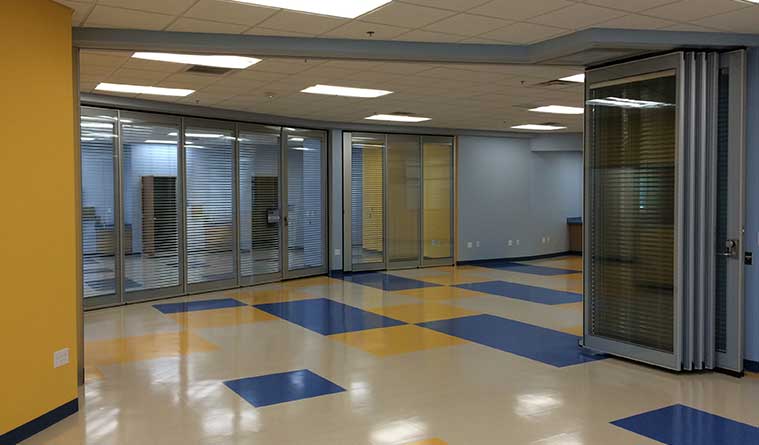 I have an existing building and want to divide some of the space or I am a tenant in a building and wish to create some flexibility in terms of space. There are two choices: have a fixed wall system installed OR have an operable partition (a moveable wall) installed. Here are several reasons why an operable partition is your best choice.
#1. Flexibility: A permanent partition is just that: permanent. It is installed in the chosen location. An operable partition  is flexible in terms of location and is able to be relocated or moved out of the way wherever you choose to install an overhead track system. The partition can be open or closed, put in alternate locations, or even be set up with only a few panels in place allowing movement between areas. You can set up different size areas for varied uses: temporary or long term office areas, meeting rooms, waiting areas etc. Moderco premier Signature series or our 700 series offer everything desired in flexible space division.
#2. You want a dividing wall but you also want to keep your business moving forward. Installing a operable partition will not result in any major modifications other than to open the ceiling directly above the partition location in order to attach the track to an existing support beam or the partition supplier can also supply and install support steel. This can be done after hours with little dust, debris, minimal use of power tools &, as the partition comes pre-covered, there will not be any lingering paint or varnish fumes. No attachment to floor or existing permanent walls. Partition will not require modifying any existing floor coverings.  Disruption to the work environment is minimal. Moderco will provide a custom fit factory assembled Signature or 700 series partition with no fuss, no mess.
#3. Operable Partition Systems are environmentally friendly. Approximately 95% of the components used  in Moderco partition systems are recyclable. Moderco is an environmentally conscious company, is LEED v.4 certified and uses only manufacturing techniques and equipment that support Mother Earth. Moderco will be most pleased to provide you with our written commitment to providing environmentally friendly products.
#4. Less potential damage to existing office areas. As all operable partitions are custom manufactured to the opening dimensions very little site assembly or modifications are required in the construction process. Panels are brought in pre-assembled, installed quickly and finished. They fit first time – every time with no major disruptions. Moderco installing distributors are factory trained to be efficient, neat, polite, dressed properly and function with a minimum of disruption to your facility.     
#5. Taxes. It is possible that the operable partition system could be defined as "office furnishings" rather than permanent improvements. As such they may not increase property assessed value and property taxes. They may also be depreciated over time. Consult a tax professional.
#6. Increases opportunities for rental for prospective