On May 19th 2019, Moderco was featured on the Fox Business News Series "Inside the Blueprint" (ITB). ITB is a fast-paced series that focuses on "exciting innovations in the hospitality, healthcare and education fields, as well as advancements in municipal construction and the increasingly popular green building movement." As the name implies, ITB goes behind the scenes and delves into the heart of the companies and their founders & associates to determine what makes them unique and successful in their areas of expertise.
(Moderco President Stephane Julien, posing with one of the slogans showcased around their immense facility. Translated: Let us not worry about our competition, but rather, let us worry about our clients.)
The ITB production crew met with Moderco at their manufacturing facility in Montreal, Quebec, Canada and visited several field sites as well. Viewers get to meet Stephane Julien, President of Moderco; Mario Fyfe, Manager of Research & Development as well as Quality Control; Jean Martin Roy, V.P of Sales and Marketing; Scott Lang, President & Owner of L2 Specialties, the Moderco Distributor in S. Ca.; Scott Johnson, Architect with Wolcott Architecture. Each details their involvement with Moderco and how they have continuously contributed to the entire Moderco success story from conception to fulfilling a need. Other subjects that are covered include the correct product selection, solving the issue at hand, protecting the product, along with packaging & shipping, field installation and ultimately, complete customer satisfaction. The rule of thumb for all Moderco associates is to always focus on customer needs and surpass their expectations rather than to simply provide a manufactured product.
(The ITB team setting up an interview shot with Moderco President Stephane Julien.)
Products featured are the glass Crystal Acoustic Wall system and the Excel 700 Series. The need for extensive inspection throughout the assembly process for the Crystal item is thoroughly emphasized and demonstrated. There is no room for error with that product because once the panel is hand-assembled and sealed to provide the expected acoustic results, any adjustments or modifications would otherwise require extremely difficult measures. The Crystal Acoustic Wall system has to be manufactured right every time. The 700 Series requires the use of industry-leading robotic assembly technology and is fascinating to witness in action. As viewers of ITB can watch, precise and predicting robots determine the next needed component in the chain of assembly, locate it swiftly and securely fasten it to the proper component of the panel frame before final completion and inspection by Moderco personnel.
(The ITB team capturing a manufacturing process as Manager of Research & Development & Quality Control Mario Fyfe explains.)
Other features during the episode include footage of a seamless, well-oiled operation as panels are moved from storage locations into their designated locations near the shipping area and then back to the stacks: simple, fast and easily relocatable; a conversation with a prominent architect explaining why he chooses to use Moderco operable partitions in his projects; footage of a complete partition being installed; interviews with Moderco management as well as distributors & associates as they talk about the 40-year history of Moderco and what inspires them to push the boundaries of their innovations; and finally, a brief glance at Moderco's newest product line: demountable glass wall systems.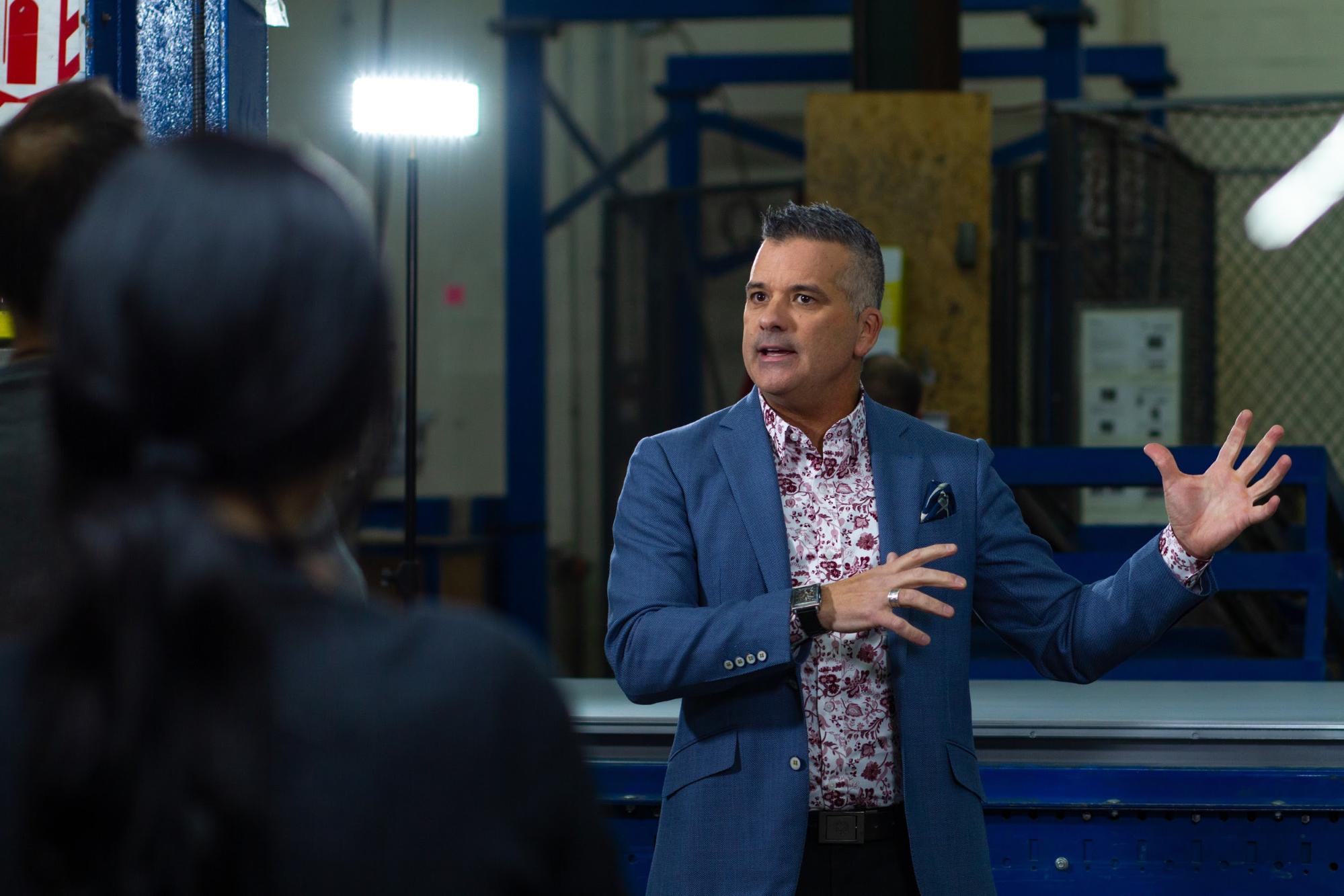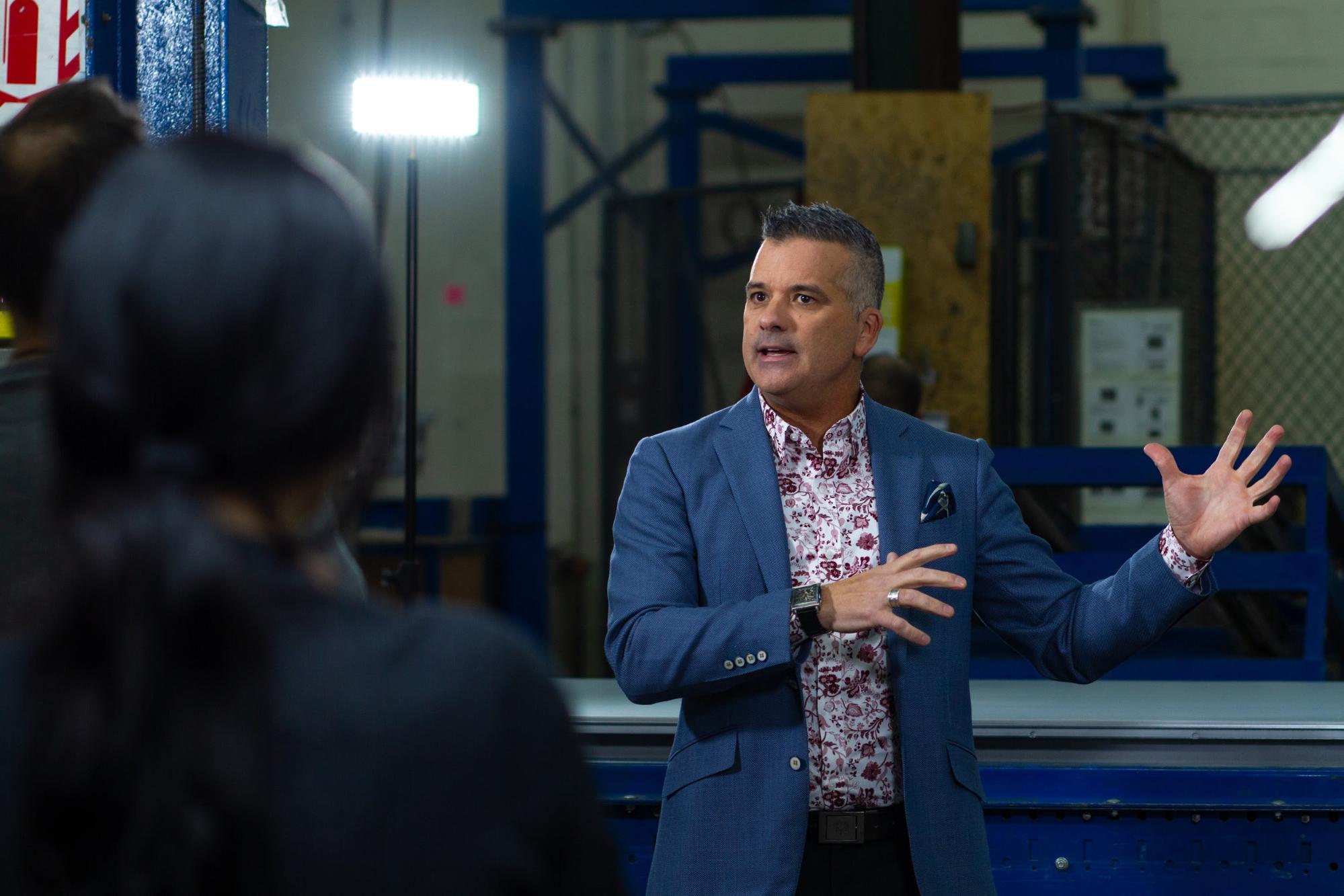 (Moderco President Stephane Julien pictured in the middle of a passionate answer to one of many interview questions covering all aspects of Moderco that are featured in the ITB episode.)
Moderco proven track record where it matters most: in the field. Inspired by need rather than profit, this internationally-acclaimed company believes that it is more important to focus on what the product can bring to the table rather than simply having it be a means of profit. To learn more click on the link below to watch the feature "Moderco Is a Leader in Moveable Wall Space" on Fox Business' Inside The Blueprint.