Let's take a brief glimpse at the future of  Operable Partitions from Moderco's perspective and research. Many operable partition manufacturers these days are concentrating on "non-human involvement" in terms of relocating partitions. They suggest that the future of partition systems is "automation";  issue a command  by touching an icon on a touch pad resulting in  single panels automatically moving to pre-determined locations.  Providing seals and final closure components that are motor driven rather than set in place by trained operators is another area of concentration. Labelling these features as being automated or hands-free is the final step in the marketing process. The technology to accomplish these "automated" features is not unique or patented: the technology and components are there for all to choose & use. But electrically operated single panels and components (which in spite of the fancy names and terms is all it is) are of little real benefit to the customer and not what the customer, in our opinion, really desires. It is simply a gimmick designed only to separate one manufacturer from another in order to obtain exclusivity. In reality what consumers want  are partitions with features that benefit him in tangible trouble-free way in the successful operation of his/her business. In short Moderco believes in "human" manually operated partition systems for the majority of applications.
The direction that Moderco has chosen and the reasons why are as follows:      
The day to day process of  "work" in the education, health industry and general "working" world are becoming more  complex on a day to day basis. An organizations needs require team-based and collaborative environments that depend on technological competence. Ever advancing interactive technology is now in control of virtually all we do. As a result and in order to remain sustainable, organizations have to be leaner and more agile, constantly  tuned in to competitive pressures and strategy, less structured in decision making authority and continually reorganizing to maintain a competitive advantage.
Two key drivers exist  in the workplace.
Organizations must be more competitive, agile, customer oriented and focused. There must be a constant focus on communication and information technology, social media, the internet in general.
Work itself has to be separated from time and space. Limit the constraints to results.
Pushing a button or tapping an icon that makes a partition go back and forth or up and down, does not make a business more successful. These are simply actions by an operator to put the partition in place rather than utilizing the conventional  " but always reliable way" – manual operation. Note that a person is still needed to "push the button" and watch the partition for safety reasons while it is in motion. But  once in place most partition simply sit there, immobile, static, essentially useless, just another pretty face until another button is pushed or icon tapped so it returns to where it is stored. Moderco wants to make the partition useful other than simply a sound and sight barrier: productive after it is across the room regardless of how it got there.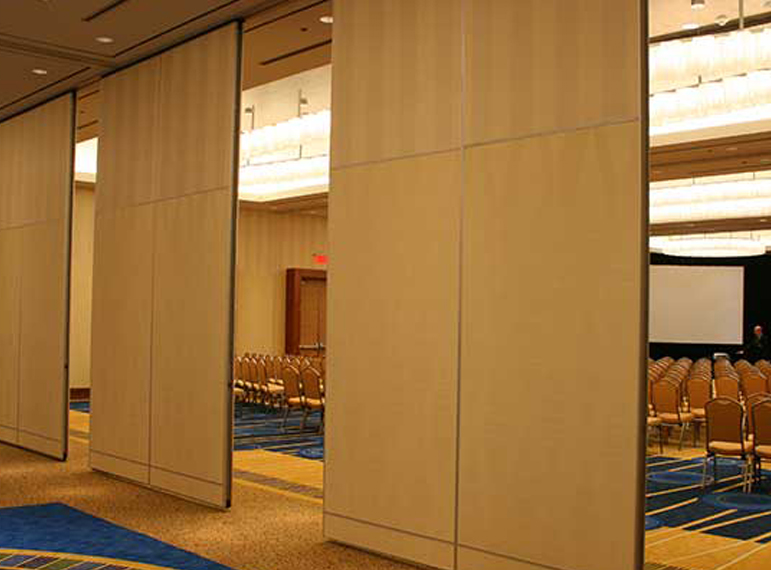 Therefore Moderco is concentrating more on developing features and new products that will contribute to the work environment. Possibilities include:
Using technology  to dramatically improve sound control without making the partition heavier and more difficult to relocate. We want to decrease noise and distractions without increasing weight.
Make the panel surfaces useful by the utilization of interactive components. Video conferencing. Computer based team tools. Visual aids.
Provide  ways and means for mobile support and integrate technological tools such as phones, laptops, PDA's, wireless connectivity etc.
Provide when possible access to daylight, views and other amenities while not reducing function and sound control.
Change the visual  appearance of the partition by "pushing a button or flicking a switch"
Make a sound rated partition opaque, slightly tinted or "see through" by pushing a button.
A never ending quest to make our products environmentally friendly.
Etc.
This is Moderco's direction. If you have features or benefits you would like to see in Moderco Operable Partitions contact us (info@moderco.com) so we can consider and respond to each and every request.